Two pictures from our garden:




january 2010




summer 2007


S*Myselisia's is a cattery situated just outside Borås in Sweden. We bought our first cat,
IC S*Mus'Myseråtti's Miss Muselina, NFO ns, in 1992. She was then ment for company only, but a year later
we had found the pleasure in showing. On a show we also saw the Birman for the first time in the real life.
We immediately fell in love with their blue eyes and when "Mysan" was one and a half year our first Birman,
S*Citizen's Pyngel Pimpinette, moved into our appartement. We started our breeding in 1995 with a
Norwegian Forest Cat litter. In 1996 we had our first Birman litter. Today our breeding is concentrated to the NFO
since that breed has got closest to our hearts.





In May 2008 we built a bridge in our catyard. It was well used already the first day.



We live in a house and our cats have a lot of space to play in. We love to have kittens and they can be
where ever they want to. They often chose to sleep in our bed. If you're interested to buy a kitten from
our breeding we want you to know that it's very important to us to know that they will come to a good home
with a lot of love and caring. If you can give this to your cat you are much welcome to contact us.
Hopefully we all want the same; the best for our loving animals!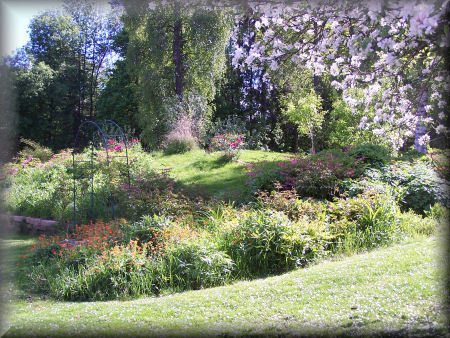 Our garden in June 2006.